50€ off the long-lasting Murena Fairphone 4 ? Yes, please.
From 5th to 26th June: buy the Murena Fairphone 4 with 50€ off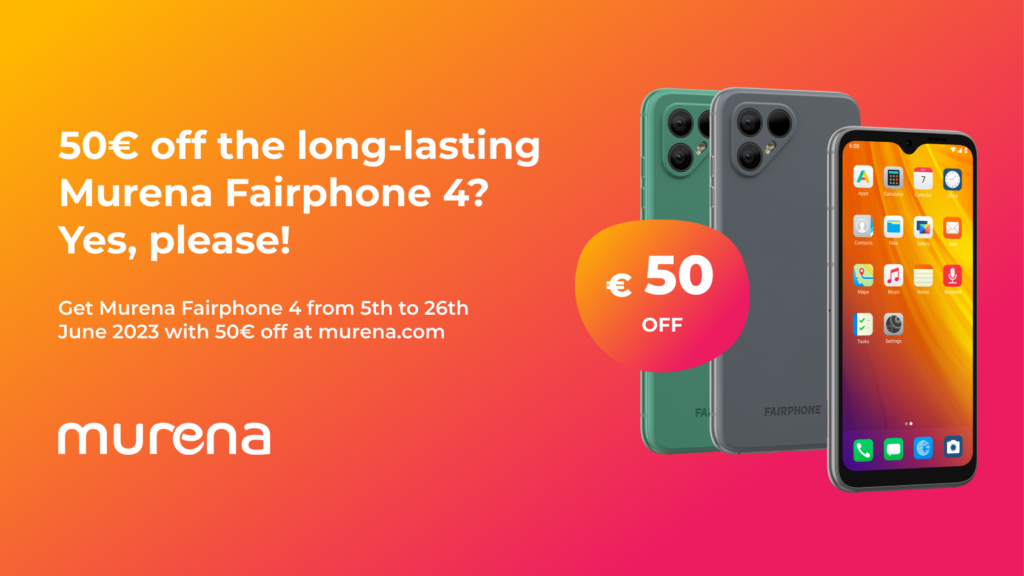 Celebrate World Environment Day together with Murena & Fairphone.
Today is a very important day to remind of actions we can take on the path to a circular economy and sustainability.
As you know, planned obsolescence of electronics causes billions of electronic waste polluting our planet. The current mobile industry pushes you to buy a new phone every 2-3 years.
That is why the best way to reduce this electronic waste in a long-term is to invest in products that last. Murena Fairphone 4 is certainly the phone that you will keep for a long time!

This modular and highly-repairable phone, takes also care of your privacy thanks to our deGoogled operating system /e/OS that helps you to cut trackers in the apps you use and collects zero logs and data about you by default. Murena Fairphone 4 features a dual 48MP rear camera and 25MP selfie camera, so you are sure to take great pictures and videos!

And last but not least, Murena Fairphone 4 has a high IP rating. This rating provides information about the protection of the device against the intrusion of solids (such as dust particles), and liquids, such as water. With the rating IP54, your Murena Fairphone 4 is protected from dust-ingress and protected from rain.

Get the Murena Fairphone 4, from 5th to 26th June, with 50€ off at murena.com.

Do not miss this opportunity to get a phone that respects your privacy and the planet!